SELL LUFTHANSA MILES
Lufthansa Miles & More: Officially known as Deutsche Lufthansa AG, and is the largest German airline.
Sell us your extra Lufthansa miles for cash!
Receive your cash via secure PayPal transaction
The Points King offers extremely competitive rates for selling Lufthansa miles
We offer even better rates for Lufthansa Miles and More airline mile packages for the following totals: 95k, 160k, 190k
Um diese Seite auf Deutsch zu lesen um nach unten zu scrollen.
Our transactions require a minimum of 40,000 Lufthansa miles
Lufthansa Airlines: Selling Lufthansa Miles in 2023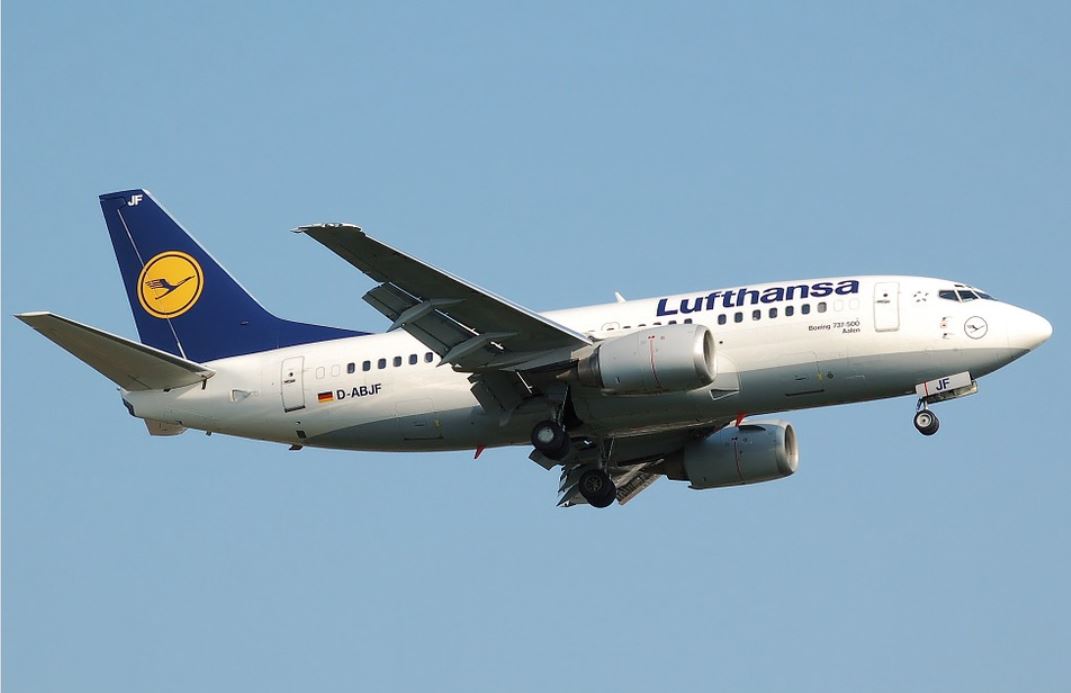 Before we get into the topic of selling Lufthansa miles, let's talk about Lufthansa's rich history.
Combined with the fleet of their subsidiaries, Lufthansa boasts the title of the largest airline in Germany and Europe, and each year they host more than 100 million passengers in some of the most comfortable planes available. It is one of the few 5-stars airlines in the world, as certified by Skytrax.
This means a ton of Lufthansa Miles and More are racked up by passengers, hence the desire of many to sell their Lufthansa miles for cash.
Sell your airline miles for cash instantly today with The Points King!
Lufthansa's main branch operates flights to 183 destinations in 81 countries across Europe, Africa, Asia and the Americas. And they are part of the Star Alliance, which also includes the following partner airlines and their subsidiaries:
·       Austrian Airlines
·       Brussels Airlines
·       Air Canada
·       Air China
·       Shenzhen Airlines
·       Avianca
·       Croatia Airlines
·       EgyptAir
·       Ethiopian Airlines
·       Aegean Airlines
·       Air India
·       All Nippon Airways
·       Air New Zealand
·       Copa Airlines
·       LOT Polish Airlines
·       TAP Air Portugal
·       Singapore Airlines
·       Adria Airways
·       South African Airways
·       Asiana Airlines
·       Scandinavian Airlines
·       Swiss International Air Lines
·       EVA Air
·       Thai Airways
·       Turkish Airlines
·       United Airlines
Lufthansa Miles and More
Ø  Starting on March 2018 this loyalty program will award its members with a number of miles calculated on the fare price (in Euros) for each trip multiplied by the membership level of the traveler.
Ø  The membership levels of Lufthansa Miles and More are as follows:
o   Miles & More Member: the initial membership level, it gives the possibility of earning miles with 36 months of validity before expiration.
o   Frequent Traveler: after accruing 35,000 miles during 1 calendar year, each member will receive 25% bonus miles, no expiration for the miles earned, preferential check-in, free baggage allowances and lounge access.
o   Senator: after accruing 100,000 miles during 1 calendar year, each member will receive all the benefits of the former level plus upgrade vouchers, and guaranteed booking up to 48 hours before departure.
o   Hon Circle Member: after accruing 600,000 miles during 2 calendar years, each member will receive all the benefits of the former level plus personal assistance, access to exclusive Hon Circle lounges, and guaranteed booking up to 24 hours before departure.
Ø  Other ways to earn Lufthansa Miles are:
o   Flying with Lufthansa or any of their subsidiaries like Eurowings, any other members of the Star Alliance, or some of the other partner airlines such as Air Malta and Condor.
o   Staying at Accor Hotels, Holiday Inn, Hilton and other hotel chains.
o   Renting a car from Budget, Avis and other car rental agencies.
o   Shopping at selected airport outlets, such as the Munich Airport Duty Free, or purchasing eligible Apple products.
o   Booking a Cruise with kreuzfahrten.de to some of their routes around the Mediterranean or the Seychelles Islands.
What's the procedure for selling Lufthansa miles in 2023?
1.     We will buy accounts of 50,000 miles or more.
2.     Tell us your contact information by phone, live chat or the website form and specify the amount of miles you wish to sell.
3.     You will receive a quote with the amount of money we offer.
4.     If you accept it, you will receive the money in your verified Paypal account.
5.     The miles we purchased from you will now pay for flight tickets for our clients.
6.     You may continue using your account for earning more miles, as usual.
Sell your Lufthansa miles today!
How much are my Lufthansa miles worth?
Approximately 1.2 cents per mile, but rates change often – please fill out a form for an exact quote.
—
German Translation of this page:
Lufthansa, Lufthansa Miles und mehr
Zusammen mit der Flotte ihrer Tochtergesellschaften rühmt sich Lufthansa als größte Fluggesellschaft in Deutschland und Europa und beherbergt jedes Jahr mehr als 100 Millionen Passagiere in einigen der komfortabelsten verfügbaren Flugzeuge. Es ist eine der wenigen 5-Sterne-Fluggesellschaften der Welt, wie von Skytrax zertifiziert.
Das bedeutet, dass jede Menge Lufthansa Miles and More von Passagieren in Anspruch genommen wird, daher der Wunsch vieler, ihre Lufthansa-Meilen gegen Bargeld zu verkaufen.
Die Lufthansa Hauptfluglinie bietet Flüge zu 183 Destinationen in 81 Ländern in Europa, Afrika, Asien und Amerika an. Und sie sind Teil der Star Alliance, zu der auch die folgenden Partnerfluggesellschaften und ihre Tochtergesellschaften gehören:
Australische Fluglinie
Brussels Airlines
Luft Kanada
Luft China
Shenzhen Airlines
Avianca
Croatia Airlines
Egypt Air
Ethiopian Airlines
Aegean Airlines
Luft Indien
Alle Nippon Airways
Air New Zealand
Copa Airlines
LOT polnische Fluglinien
TAP Air Portugal
Singapore Airlines
Adria Airways
South African Airways
Asiana Airlines
Skandinavische Fluglinien
Swiss International Air Lines
EVA Luft
Thai Airways
Türkische Fluglinien
United Airlines
Lufthansa Meilen und mehr
Ab März 2018 wird dieses Treueprogramm seinen Mitgliedern eine Anzahl von Meilen berechnen, berechnet auf den Fahrpreis (in Euro) für jede Fahrt, multipliziert mit der Mitgliederebene des Reisenden.
Ø Die Mitgliedsstufen von Lufthansa Miles and More sind wie folgt:
Miles & More Member: Das erste Mitgliedschaftslevel bietet die Möglichkeit Meilen mit 36 ​​Monaten vor Ablauf zu sammeln.
Frequent Traveller: Nach dem Sammeln von 35.000 Meilen während eines Kalenderjahres erhält jedes Mitglied 25% Bonusmeilen, keinen Ablauf für die gesammelten Meilen, bevorzugten Check-in, Freigepäck und Lounge-Zugang.
Senator: Nach dem Sammeln von 100.000 Meilen während eines Kalenderjahres erhält jedes Mitglied alle Vorteile der früheren Stufe plus Upgrade-Gutscheine und garantierte Buchung bis zu 48 Stunden vor Abflug.
Hon Circle Member: Nach dem Sammeln von 600.000 Meilen während 2 Kalenderjahren erhält jedes Mitglied alle Vorteile des vorherigen Levels plus persönliche Unterstützung, Zugang zu exklusiven Hon Circle Lounges und garantierte Buchung bis zu 24 Stunden vor Abflug.
Ø Weitere Möglichkeiten, Lufthansa Miles zu sammeln, sind:
Fliegen Sie mit Lufthansa oder einer ihrer Tochtergesellschaften wie Eurowings, anderen Mitgliedern der Star Alliance oder einigen anderen Partnerfluggesellschaften wie Air Malta und Condor.
Aufenthalt bei Accor Hotels, Holiday Inn, Hilton und anderen Hotelketten.
Auto mieten von Budget, Avis und anderen Autovermietungen.
Einkaufen in ausgewählten Flughafenfilialen, wie dem Dutch Free Flughafen München, oder Kauf von Apple-Produkten.
Buchung einer Kreuzfahrt mit kreuzfahrten.de zu einigen ihrer Routen rund um das Mittelmeer oder die Seychellen.
Wie ist das Verfahren zum Verkauf von Lufthansa Meilen?
Wir werden Konten von 50.000 Meilen oder mehr kaufen.
Teilen Sie uns Ihre Kontaktinformationen per Telefon, Live-Chat oder das Website-Formular mit und geben Sie die Anzahl der Meilen an, die Sie verkaufen möchten.
Sie erhalten ein Angebot mit dem von uns angebotenen Geldbetrag.
Wenn Sie es akzeptieren, erhalten Sie das Geld in Ihrem verifizierten Paypal-Konto.
Die Meilen, die wir von Ihnen gekauft haben, bezahlen jetzt Flugtickets für unsere Kunden.
Sie können Ihr Konto weiterhin verwenden, um wie üblich Meilen zu sammeln.
Verkaufen Sie Ihre Lufthansa Meilen heute!
The Points King
385 First Ave Suite 10G New York NY 10010
866-367-5099
Hello@thepointsking.com