Flying with credit card points or accumulated airline miles means you're probably traveling first class. And with first class, comes airport lounges. However, not everything is so rosy when it comes to first class lounges. We scoured the web and below we present to you the 12 worst airport lounges in the world below. Check out the best airport lounges here.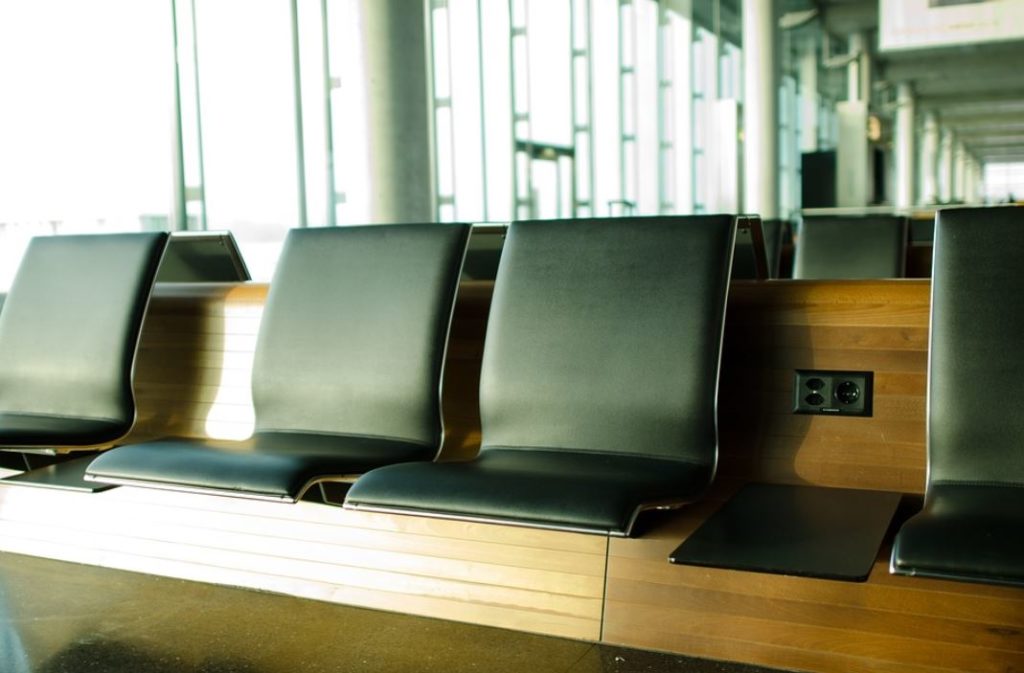 12. Chicago O'Hare International Airport (ORD) United Club, Terminal 2
The lounge is tiny, cramped, and you won't find a place to sit. It is not very tidy. A good thing is that the staff here is extremely friendly. Some advice is that, similar to the Delta Sky Club at ATL, if you have some time, you should make your way over to Concourse B in Terminal 1, where the United Club is a much better experience. Travelers deserve more from United at one of their hub airports.
11. LAX United Club, Terminal 7
Who wants fruit flies surrounding the bar? No one does. That's exactly what has been reported at this Terminal. The amenities and food are lacking according to GateGuru users. The best thing travelers can say about this club is that it "beats sitting at the gate." This United Club is dated and subpar.
10. ATL Delta Sky Club, Concourse B
Clearly the savvy Delta Sky Club traveler who finds herself in Concourse B for any extended amount of time should immediately head over to Concourse C and the flagship lounge. GateGuru users have said that, "it is too miserable to spend a complete layover." This Delta Sky Club is a pretty stressful experience. GateGuru users state that it is always crowded, dirty, and has a "totally ineffective layout." This club shouldn't even be called a club given how small and crowded it is, even though it was recently renovated. On top of that, there are only few outlets that actually work.
9. Plaza Lounge Seeb Airport – Muscat, Oman
Many people would not pay extra to use this place. It can be free for first class flyers or through pay-per-use, but let's face it, who would utilize that? The word "average" comes up a lot in conversation around Plaza Lounge at Seeb Airport. It has a lack of VIP vibe because there are very limited seating options, restrooms that need updating, and nothing spectacular about their entertainment facilities. At same time, there is no other exclusive lounge available, so it is what it is!
8. American Airlines Admirals Club – Newark, USA
Lack of luxury, showers, spas, or private rooms for relaxation, Newark International Airport is considered one of the least impressive of American Airlines' Admirals Clubs. Another downer? You have to pay for the food. you have to pay for the food. Available to AAdvantage or oneworld elite status members and Admirals Club members, the Newark AA lounge is basically an exclusive version of your regular airport waiting area.
Your best bet? The SAS Business lounge offers premium services for guests flying on an SAS or Star Alliance flight from Newark.
7. Qantas Business Class Lounge – Shanghai Pudong Airport, China
Business class travelers and frequent flyers are given access to the No. 69 Shanghai Airport Authority lounge since Qantas doesn't technically operate its own lounge in Shanghai.
There is a basic buffet of pre-packaged sandwiches, a bar, and snacks. It doesn't shout opulence! It is styled with a basic layout and interior design. So far, it doesn't sound much different than a public waiting area. There isn't much privacy or relaxation, but there are showers and bathrooms available for freshening up before your flight.
Shanghai Pudong Airport has a wide range of lounges, but none of them look any better. You could try the No. 77 China Eastern Plaza Premium Lounge available to Priority Pass members, but even then there is a two hour time limit.
6. Lufthansa Business Lounge – Frankfurt Airport, Germany
Lufthansa's business lounge doesn't quite look like it sounds!
Most of the seats are very uncomfortable, plastic bench-style seats. There are, however, 36 armchairs available if you're lucky. There to concentrate on your work? You'll need headphones to block out the loud TV at the center of the lounge.
There aren't any hot meals available, but there are rolls, bar snacks (moreso than some other airport lounges), and there is WI-FI! It is under-equipped and crowded. The Lufthansa Business Lounge is basic at best.
If you have the extra money, the Lufthansa First Class lounge at Frankfurt Airport has won awards for its features and services. See? Some show options can be hit-and-miss even with the same carrier.
5. GOL Smiles Lounge – São Paulo Guarulhos International Airport, Brazil
Basic amenities, dated furnishings, and overcrowding have put this airport lounge on the list. It could be said that the whole space is one big waiting room, with some bells and whistles. The GOL Smiles Lounge at São Paulo's Guarulhos International Airport is available for premium and business class guests with a range of carriers, including Delta, Emirates, Etihad, Qatar and SWISS airlines.
According to others, you can check out the Admirals Club, the LATAM and oneworld lounge or the Star Alliance lounge for a more hopeful experience.
4. Cathay Pacific and Dragonair Lounge – Beijing Capital International Airport
This unfashionable shared Cathay Pacific and Dragonair lounge is plain. There are no showers here and only basic bathroom facilities, a general lounge area, snack table, and basic buffet. Intermittent announcements of flights boarding by attendants shouting while they walk through the lounge only adds to the atmosphere of blandness. It may just be practical, but bland partitions help give guests some sense of privacy between the general lounge area, business center, snack table, and basic buffet.
Important: Priority Pass members have access to six different lounges in the international terminals of this airport. Alternatively, you could consider a credit card that offers Priority Pass visits, such as the American Express Platinum card or Citi Qantas Signature. All of them look more promising than this
3. First Class Lounge, Cairo Airport
There are four themed areas (sub-lounges): American, English, Egyptian, and Italian. They look like tacky restaurants or bars than VIP areas. This enormous lounge is contracted out to most of the airlines flying through Cairo Airport, including Qatar Airways, Egyptair, Etihad and Emirates. The quality of the amenities vary expressively between these areas, so it's possible that your visit could have the same hit-and-miss feel as trying to find a good place to rest an airport terminal.
If you want to access a lounge at Cairo Airport, it could be wise to book a premium ticket with one of these two airlines: Air France and KLM. They share a smaller, separate lounge at Cairo Airport that looks more like what you'd expect for first and business class travelers.
2. Oneworld and Air Berlin Exclusive Waiting Area – Vienna International Airport, Austria
A parallel between a standard public waiting area and proper airport lounge, the oneworld Alliance Exclusive Waiting Area at Vienna Airport is open to elite frequent flyers of airberlin, Virgin Australia and Etihad. It is appealing and quiet.
There is no food and beverages are limited to tea, soft drinks, water, or coffee. On the same note, there are no showers or entertainment familities. The airberlin Exclusive Waiting Area is a far from extravagance.
It is recommended that to try the Lufthansa's super-elite HON Circle Lounge at Vienna because it offers the serenity and bonus you need from a lounge. It's possible to get access to it with your ticket or frequent flyer status.
1. First Class VIP Lounges No. 6 and No. 7 – Changsha Airport, China
These two business class lounges are less inviting than the terminal waiting areas at Changsha Airport. They have doily-covered chairs and carpets from a previous era. Lounges have user-friendly PCs for work, and if it gets hot, there's a standing fan you can get close to. Food and drink consists of cans of coke, instant coffee, and pre-packed biscuits.
Unfortunately, these do make the cut as they are similar to a public waiting area. You may want to take a closer look at what the lounge offers before paying the entry fee, unless you have complimentary access to a lounge through frequent flyer membership or your airfare ticket.
Changsha Airport has a total of ten lounges, which can be accessed with a first or business class fare for most airlines, or purchased if you're flying economy. Unfortunately, the only details found are of similar standard, despite the airport being pretty new.